Fence & Deck Supply is Utah's best source for deck materials. We offer a comprehensive supply of Trex, the leading wood-alternative, as well as other composites and wood. Our stores are located in Provo and Salt Lake City.
We carry much more than just deck boards. Browse our categories below for decking, framing, hardware, drainage and more. Need railing? We offer aluminum, steel and Trex composite materials.
We service DIY retail customers and contractors alike. Unlike the big box stores or lumber yards, our associates are specialists in the products we offer. Come visit us for ideas and help with your project plans.
Buy Materials from Fence & Deck Supply - Utah's Local Source
Visit our showrooms and retail counters in Provo and Salt Lake to buy decking and related materials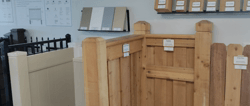 Shop for Deck Materials and Other Products at Our Provo and Salt Lake Stores
Come in to Fence & Deck Supply to buy materials for your next project. We specialize in decking, fencing, railing, and more. Our affordable prices and expertise set us apart from lumber yards and box stores. We don't sell windows, tile, plants or gum! Our specialization allows us to build long-term relationships with manufacturers and distributors and gives our associates the ability to support customers daily specifically on the products we sell.
Since the late 1990's, our company has catered to DIY and contractor customers all along the Wasatch Front. From Layton to Nephi, customers rely on us for the best quality and wide variety of products. Need help with your project ideas? Our knowledgeable associates are specialists and can answer any questions you may have to help get your project going.
Our stores and yards are fully stocked with inventory. Our self-service yards in south Provo and in South Salt Lake are easy to access and are open M-F, 8am-5pm. Need help? Our yard personnel have forklifts handy to help you get loaded. Have questions, contact us today!