Trex Transcend and Trex Select
Trex has two railing styles, Trex Transcend and Trex Select. Transcend railing is made for the Transcend decking line, with many customizable options and 7 different colors. For a simpler, cleaner look, Trex Select is easy to install and comes in Classic White. Explore the style options to chose the railing that's right for you.
Trex Compatible
Trex Railings work with Trex Decking and Trex Lighting. Mix and match Trex Railing components to customize the look of your deck. Railings also come in 7 colors that match Trex Decking colors for a clean, cohesive look.
The Trex Brand
Trex Railings are made with the same great product as Trex Decking. This means you'll never have to paint, stain, or sand your railings to keep them looking nice. They're also stronger and more durable than wood or vinyl railings. And all Trex products carry the 25-year Residential Warranty.
Won't Warp, Rot, Or Splinter
Trex railings are built to last through years of backyard BBQs, snowstorms, and everything in between. You'll never have to worry about rotting, leaning, or splinters. Your Trex railings will still look as good as the day they were installed.
Trex Transcend Railing Components
1
| | |
| --- | --- |
| | |
| Flat Cap | Pyramid Cap |
2
Post Sleeve
3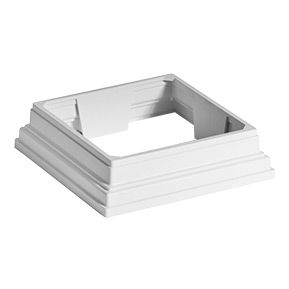 Post Sleeve Skirt
4
Crown Top Rail
5
Bottom Rail
6
| | | |
| --- | --- | --- |
| | | |
| Square Baluster |  Round Aluminum Baluster |   Square Aluminum Baluster |
7
Infill Kit
Trex Transcend Railing Colors
Gravel Path
Tree House
Classic White
Charcoal Black
Rope Swing
Vintage Lantern
Posts and Rails

| | | | | | | | | |
| --- | --- | --- | --- | --- | --- | --- | --- | --- |
| No. | 1 | 1 | 2 | 3 | 4 | 4 | 5 | 5 |
| Part | Flat Cap | Pyramid Cap | Post Sleeve | Post Sleeve Skirt | 6′ Crown Top Rail | 8′ Crown Top Rail | 6′ Bottom Rail | 8′ Bottom Rail |
| Dimensions | 4.55" x 4.55" | 4.55" x 4.55" | 4.45" x 4.45" x 40"/108" | 4.55" x 4.55" | 67.5" | 91.5" | 67.5" | 91.5" |
Balusters

| | | | | | | | |
| --- | --- | --- | --- | --- | --- | --- | --- |
| No. | 6 | 6 | 6 | 6 | 6 | 6 | 7 |
| Part | Square Baluster (36″ Rail Height) | Square Baluster (42″ Rail Height) | Round Aluminum Baluster (36″ Rail Height) | Round Aluminum Baluster (42″ Rail Height) | Square Aluminum Baluster (36″ Height) | Square Aluminum Baluster (42″ Height) | Infill Kit (2 Baluster Spacers, Adjustable Foot Block, Mounting Hardware) |
| Dimensions | 1.418" x 1.418" x 30.375" | 1.418" x 1.418" x 36.375" | .75" x 30.25" | .75" x 36.25" | .75" x 30.25" | .75" x 36.25" | |
Trex Select Railing Components
1
| | |
| --- | --- |
| | |
| Flat Cap | Pyramid Cap |
2
Post Sleeve
3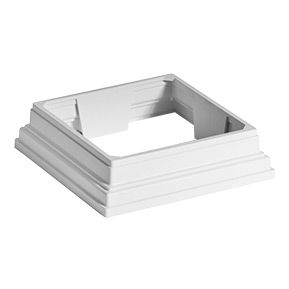 Post Sleeve Skirt
4
Rail and Baluster Kit
| | | | | | |
| --- | --- | --- | --- | --- | --- |
| No. | 1 | 1 | 2 | 3 | 4 |
| Part | Flat Cap | Pyramid Cap | Post Sleeve | Post Sleeve Skirt | Rail and Baluster Kit (Includes: Top Rail, Bottom Rail, Square Balusters, Adjustable Foot Block, & Hardware Pack) |
| Dimensions | 4.55" x 4.55" | 4.55" x 4.55" | 4.45" x 4.45" x 40"/108" | 4.55" x 4.55" | |
SEE RELATED RAILING STYLES