Wave goodbye to digging!
Still digging post holes and filling them with concrete? You don't have to anymore! With code-compliant Ground Screws (ICC-ES: ESR-4226), you can wave goodbye to all that hard labor.
The screws offer a low-profile, long-lasting alternative to traditional foundations. The various post bases make the screws ideal for decking, fencing, pergolas, and other outdoor structures.
Available in various types, lengths and dimensions.
How Ground Screws Work
Unlike digging a hole and pouring concrete, which can destabilize in soil, the screws generate a compaction zone in the soil using massive outward pressure from the screw cone creating an incredibly sturdy foundation.
Setting a traditional concrete foundation also means significant excavation. Extracting soil for 12″ x 30″+ holes creates piles of cuttings that often have to be removed from a property. With the screws, the  cost and labor needed for disposal of the cuttings is eliminated.
Because the profile of ground screw is so slim, another advantage is the ability to set the product closer to structures or utilities without risk. Of course, always take proper safety precautions!
Buy Materials from Fence & Deck Supply - Utah's Local Source
Visit our showrooms and retail counters in Provo and Salt Lake to buy Ground Screws
Building better foundations through innovation.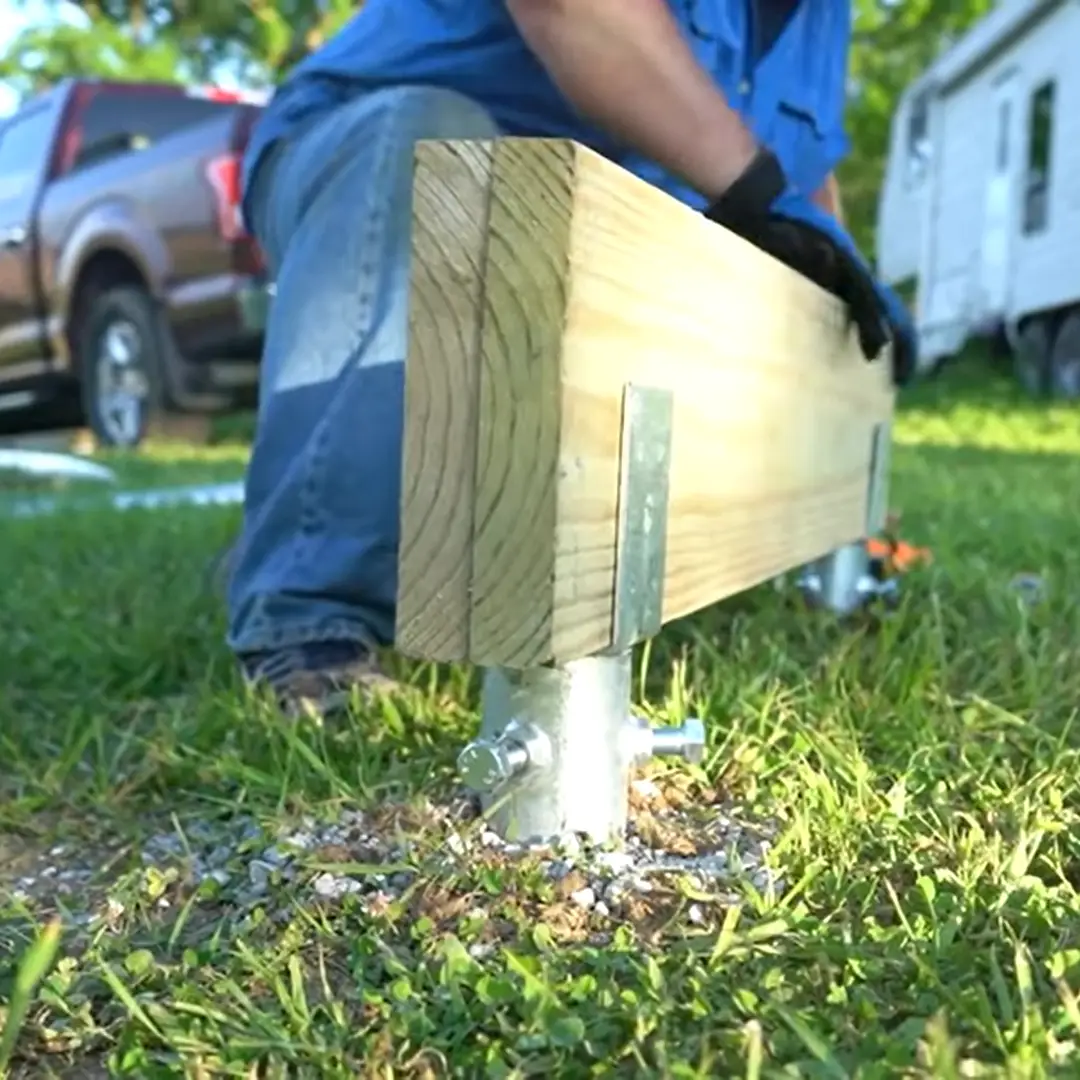 THE BENEFITS OF GROUND SCREWS
Installation is Easy
Using either a hand-held driver or a machine-mounted driver, the screws install in a few minutes. No messy cleanup, no concrete, no digging!
No need to wait to build.
Digging holes. Pouring the concrete. Waiting for it to set up. That's the old way to create a foundation. Time-consuming and laborious. With the screws, you are ready to build immediately, saving precious labor time. Imagine cutting hours or days off your project!
Green Product.
Screws are a greener alternative to concrete and deep foundations making them ideal for hard-to-build areas, brownfields, and sites that shouldn't be disturbed. Need to move your foundation? That isn't possible with concrete. With the ground screws, all you have to do is reverse them out and reset them elsewhere.
Innovation from Fence & Deck Supply
Ground Screws are one of many specialty products offered by Fence & Deck Supply. For over two decades we have helped deck builders and DIY customers complete their projects with a comprehensive inventory of decking, railing, framing, under-deck drainage, and more.
Please visit our stores for additional information on this product and the others we carry. We look forward to working with you!